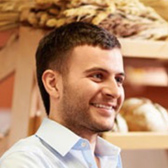 Meet Daniel
An expert in dough, not design.
Daniel needed a powerful web presence to get the word out about the incredible hand-crafted beignets available at his gourmet bakery.
Using Boldwala he was able to quickly set up a website, a social media presence and even a PR-kit to get the attention of local bloggers.